Conversion Rate Optimization That Will 5x Your Online Sales
If you want to master conversion rate optimization then stop starting your sentences with…
"I think"
Two words that will ruin your business.
Failing businesses all have one thing in common. They think. They don't know. But when you've got your money on the line – you need to know what's working and what isn't.
That's exactly where conversion rate optimization comes in. Once you start tracking what's working and what isn't, you'll have all the data you need to make reliable (and profitable) decisions.
Data-based decisions that will drive your business forward, and increase your revenue and profits.
The Two Methods To Conversion Rate Optimization
When collecting data you need two things.
A controlled test
A reliable method of collecting the data
When it comes to running controlled tests there are two methods. The split test (also known as AB testing) and the multivariate test. Both can be used for conversion rate optimization.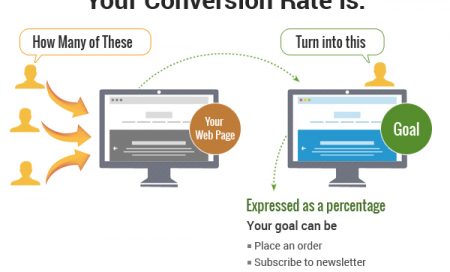 Split test is when you create a duplicate of a web-asset (such as an email or web page), and change only 1 thing. This is good for when you need to tweak and refine an already successful web-asset.
However, because you can only change 1 element with each test, split tests optimize pages slowly (which isn't good for most conversion rate optimization tests). For this reason, they should only be used after your page is already converting at least 1 in 100 unique views to a sale.
Multivariate testing is when you recreate a web-asset so that it is vastly different from the original. With this test we aren't measuring the effect of individual elements on conversions. Instead, we are measuring two distinct concepts or ideas.
For instance a fitness coach might test whether people respond most to "losing weight" or "building muscle" when signing up for a bootcamp. Another test might be whether her potential clients preferred a "friendly" or "tough-talk" approach to reaching their fitness goals. Each page in the conversion rate optimization test would look completely different, using different colors, fonts, styles, images, headlines, offers and copy.
Multivariate testing is useful for product launches and "steering the ship" of your marketing campaigns. But once you've found a winning concept you should start refining the core idea using split tests to get the best conversion rate optimization results.
The only metric that matters
When you start looking at all the data you're collecting, it's easy to forget what matters most. And indeed, there is only 1 metric that you should ever base your decisions on.
The conversion rate.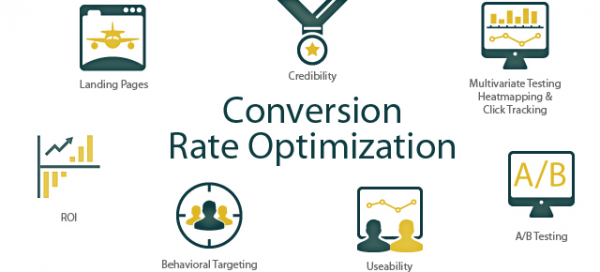 It doesn't matter how long users stay on the page, or how far down they scroll. Or even what they click on. The only thing that you need to base your final decision on is the winning conversion rate.
Sounds obvious, but you'd be surprised at how many people try to justify a losing variant using everything but the one metric that matters. Always ask yourself "Which page is converting better?"
So why are we measuring all these other metrics when we're doing conversion rate optimization? Because they help you build a better mouse trap…
You might find that users stop scrolling at a certain point in your copy. Or spend most of their time reading 1 particular section. Or they stop your video after 10 seconds. All of this data tells you why one thing performed better than another.
So the next time you run a test you can look back at all the data you've collected and come up with a hypothesis to test. The more data you have, the more likely it is that you'll improve your conversions.
Collecting the data for conversion rate optimization
Running tests is easy. Most marketing platforms offer split testing. You can even run split tests using the free "content experiments" feature of Google Analytics.
In fact you could do all of your testing and collect all the data you need using just Google Content Experiements. And you could do all of this for free. But this can be a very complicated and tedious process, and isn't user friendly for the majority of people.
To make collecting data and running tests easier for conversion rate optimization, I suggest using Visual Website Optimizer if your content builder doesn't have a built in split testing feature (such as wordpress). For creating sales pages, and funnels I strongly suggest using Clickfunnels.
You can set up split tests quickly and easily within Clickfunnels (for more about setting up sales funnels read this blog post). It has a very simple analytics page and built in confidence scoring (more about that later as it's a core concept for conversion rate optimization tests).
Visual Website Optimizer is great if you want to test non-sales pages, or pages that can't be built within Clickfunnels. Such as Shopify store pages, WordPress blogs, and other website pages.
Yes, you could use Visual Website Optimizer for your sales pages as well, but in my experience building sales pages in WordPress and other content platforms is cumbersome at best. Although you plugins such as BeaverBuilder and VisualComposer make coding a webpage easier.
Clickfunnels has everything you need all in one place and it's super easy to use (much easier than the wordpress builders). So you'll be able to build a complete sales funnel super fast, including payment processing, one click upsells (you can't do this in wordpress) and running split tests. Clickfunnels makes conversion rate optimization easy.
There is one other tool that I use for conversion rate optimization – HotJar.
Now if you're using Visual Website Optimizer, you won't need HotJar because VWO has everything that HotJar provides. But if you're using Clickfunnels or Google Analytics, then HotJar is amazing. And it's free (with certain limitations).
HotJar records your users as they move through your web pages. Giving you heat, scroll, and click maps. Plus a visualisation of your entire sales funnel, making it easy to see where users are dropping off.
To recap here're the tools you'll need:
Google Analytics: this collects the majority of the data you'll need to make decisions when running conversion rate optimization tests. It also does a good job of showing you how users move through your website. However, you will need to set it up correctly to access all of its features and collect data accurately. 
Setting up GA can be very confusing and it's easy to stuff up. I strongly suggest hiring an expert in GA to do the initial setup as well as any ongoing changes for you. Ideally, all you'd do in GA is run reports and review the collected data. (trust me on this one!)
HotJar: records your individual visitor sessions, provides heatmaps, troubleshoots forms and provides a very clear visual of your entire sales funnel. 
I love HotJar because it is super simple to setup (you can do it all yourself in just a few clicks). The data that it collects is incredibly insightful too – and it's visual so it's easier to understand than Google Analytics. You can peer over the shoulder of every user as they interact with your website which is pure gold and by far my favorite feature. Hotjar is my go-to tool for conversion rate optimization.
Clickfunnels: my preferred sales page and funnel builder. It's drag and drop, with everything you need to build high converting sales pages included in the platform. Such as timers, forms, popups, upsells, split testing and checkout.
Visual Website Optimizer: for users who want everything in one place. VWO is great if you want to test pages on WordPress, Shopify or other platforms that don't have split testing built in. It's easy to setup and all your data is in one place.
Confidence Scores
Most paid split testing platforms have this included with their system. But what does it mean and why is it important to conversion rate optimization?
Imagine you sent 2 emails and the only thing you changed was the subject line. Firstly, the only thing we are measuring is the open rate because that's all the subject line will affect. Yes, your click rates will also go up if you get more opens but that is a correlation – not causation.
When running conversion rate optimization tests you always need to know what metric you are measuring. In this instance the variable that I am testing (the subject line) will affect the open rate most and that is the metric I will use to determine the winner. (FYI email templates effect open rates more than subject lines – more about that here)
Here's 3 examples from tests I ran last month for Home61.
You might think that the variation is a clear winner over the original. But it is not. The variant added 2% to the open rate an increase of 12% from the original. However, when I calculated the confidence score, I only got a score of 63%.
63% is not high enough to be statistically significant when running conversion rate optimization tests. It's about as accurate as tossing a coin – you've got a 50/50 chance of landing on either side. The conclusion, this test needs to collect more data to see which variant performs better.
Let's look at example 2. I've added 4% to the open rate, an improvement of 30% from the original. However, using the confidence test this result only scores 79%. Now it would be pretty accurate to assume that this result is correct. But it is still too early to say for sure. So I need to collect more data for this conversion rate optimization test.
Whereas with this test I can be 94% certain that this variant will outperform the original. Even though it has only been sent to less than 100 people per variant (small test group = unreliable results).
The more data I collect for conversion rate optimizations, the more accurate the result is. Sometimes you will have a clear winner with just 100 opens (such as above). Other times you need to run the test to a larger pool of people such as 500 or 1000 to get a reliable result.
For instance, if you let the second test (which had a 79% confidence score) run for another 4 weeks. You might have sent 400 emails to each variant and still get similar open rates, but the confidence score will now be 89% because of the larger test group.
The higher the confidence score for a conversion rate optimization, the more reliable the test results will be. So how do you calculate a confidence score?
Rather than give you a formula, here's a link to an free online calculator that I use regularly.
http://getdatadriven.com/ab-significance-test
Don't Rely On Surveys
Surveys can be a good way of collecting ideas for conversion rate optimization tests. But they should never be relied upon as fact. More often than not what people say they want, is very different to what they actually respond best to.
For instance, customers are often asked whether they prefer a hard or soft style of sales pitch. Almost 100% of the time people will say that they dislike and would never buy from "used car salesman" type selling scripts.
Yet, when you actually test it in an AB split test – the hard sell almost always wins. (and millions of people still shop at used car dealers everyday too!)
People think they know what they want, but the results say otherwise.
So should you run polls and surveys to collect data for conversion rate optimization?
Yes, definitely. I run survey's and get feedback every chance I get. But here's the thing – you have to prove the survey data with a split test and let the numbers do the talking – not the opinions of your customers or team.
There's no point recording 1 hour long tutorial videos if 90% of your viewers stop watching at 5 minutes. Even if 100% of your viewers say they would prefer a 1 hour video.
Don't get caught up in heresay. Listen only to what the numbers are telling you.
(With the video example, don't scrap the conversion rate optimization straight away. Run tests and try to figure out why people are leaving at the 5 min mark. Maybe your content is boring, or the audio is bad… this is where all that data that you've collected comes into play)
Walk Before You Run
Don't start running conversion rate optimization right away!
You'll only waste your time and resources. First you need to collect data and ensure you are collecting ALL the data. You should also have a visual representation of your sales funnel. This will show you exactly what you need to focus on.
Here's a funnel visual from HotJar for one of my clients. When I first started working with her she said her sales page 'sucked'. So we reworked it. She made a few extra sales, but it wasn't the big spike she was hoping for.
So I took a deeper look at what was going on. Indeed the new sales page improved her conversions (it went from 2% to 8%). That wasn't the problem. The problem was that out of the 300 opt ins that she had last month, only 12 saw the sales page!
She had run conversion rate optimization on the wrong thing.
So I took another look at her whole funnel (I had previously just seen the sales page). She had a long email series leading up to her product, lots of videos and blog content that she was sharing too.
But out of the 20 emails that she sent, only 3 of them had links to the sales page. And when someone signed up for her free download, they just went to a thank you page – that's it.
I knew that if I could get more people to see her sales page, she would be making sales very quickly. So that's exactly what we did. We reworked her emails (using my product launch sequence) and fixed her funnel, so the thankyou page redirected to her sales page with a special one time offer.
We also started retargeting ads on Facebook and Google ad network to redirect new signups to her sales page. Remember, people need to see your offer 7-12 times before they buy!
So what happened?
Within 30 days she had over 75 sales compared to just 1 the month before!
Why am I telling you this? Because there is a system that you should follow for conversion rate optimization and here it is:
Setup tracking and analytics on all your web assets. Set up goals, segments, reports and custom dashboards in Google analytics. Funnels, heatmaps and recordings in HotJar. And if you're using VWO, go through their tutorial step-by-step.

Collect data without changing anything. You'll need at least 100 visitors entering your sales funnel. This will give you data to populate your analytics and tracking, to ensure it is setup correctly before running conversion rate optimization – don't underestimate how important this step is! If you're not collecting data accurately everything will fall apart very quickly!

Review the analytics data carefully. Spend a good 2-3 hours trawling through all the reports and data sets. Keep asking yourself "why is this happening?" and "what does this mean?"

Identify the biggest hole in your funnel. Then dig down into the data for that area and brainstorm things that you can do to improve your conversions.

In the example above, the sales page wasn't getting enough traffic. So I asked myself "where is the traffic coming from?" and "how do I get more traffic?"

Choose a solution that you are confident with and setup the conversion rate optimization test

Check that the analytics are recording data for both variants individually. (most people get this wrong so make sure you clearly split the data in all of your analytics). You want separate heatmaps, funnels and Google Analytics datasets for each variant etc.

Let the test run for at least 3 days and 100 visitors.

If you have lots of traffic then you don't need to run your test very long to get a result – but always run the test for a minimum of 3 days regardless of how much traffic you're getting.
If you have very little traffic you may need to run 1 test for 30 or more days. (For most of my clients 30 days is the sweatspot)

Check the confidence score and if it over 80% then you have a winning variable (anything less than this isn't an accurate result and should be tested longer or concluded as irrelevant)